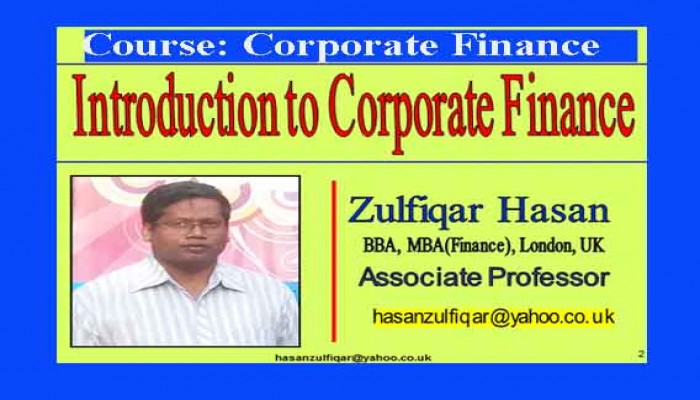 Zulfiqar Hasan, (PhD (Fellow), Associate Professor
This is an intorductory topic for the course of Corporate Finance of BBA, MBA or any busines program.
Basics of Corporate Finance
What is Corporate Finance? Decisions involve in Corporate Finance, Corporate Securities as Contingent Claims on Total Firm Value, The Corporate Firm, Goals of the Corporate Firm, Agency Problems, Set-of-Contract perspectives, Financial Markets
What is a Corporation?
A corporation is a legal entity, meaning it is a separate entity from its owners who are called stockholders. A corporation is treated as a "person" with most of the rights and obligations of a real person.
A corporation is a separate and distinct legal entity. This means that a corporation can open a bank account, own property and do business, all under its own name. A corporation is managed by a board of directors, which is responsible for making major business decisions and overseeing the general affairs of the corporation.
Types of Corporation
Based on Taxation
S-Corporation: Single Taxation

C-Corporation: Double Taxation
Based on Location and Operation
Domestic Corporation

Foreign/International/Multinational Corporation
Based on Participation in the Share Market
Public Limited Company

Private Limited Company
Characteristics of a Corporation
1. Centralized management in a board of directors
2. Unlimited Life
3. Separate legal entity
4. May sue and be sued in its corporate name.
5. It may acquire property in its own name
6. Enter into binding contracts
7. Pay taxes
8. Limited liability:
9. Ease of capital acquisition
10. Government regulations
11. Relative ease of transferring ownership rights
12. Tax Exemptions Facilities
13. Government Incentives
14. Arranging AGM
15. Publishing periodic and Annual Report
16. Disclosing the information
17. Paying Dividends in different forms
18. Can issue Rights Share and Preferred Stocks
19. Can issue Debt Securities (i.e. Bonds)

Partnership vs. Corporation


Managing a Corporation
A corporation is managed by its board of directors, which must approve major business decisions. A director can be, but is not required to be, either a shareholder or an officer. Directors are elected by the shareholders and typically serve for a limited term. In Bangladesh, each corporation must have at least more than one director.
Examples of procedures which must be approved by the board of directors include:
Declaring a dividend

Electing officers and setting the terms of their employment

Amending bylaws or the articles of incorporation

Any corporate mergers, reorganizations or other significant corporate transactions

Directors of a corporation owe "duties of loyalty and care" to the corporation. Generally, this means the directors must act in good faith, with reasonable care, and in the best interest of the corporation. If a director stands to personally gain from a transaction with the corporation, he or she must disclose this fact and refrain from voting on the matter, if possible
Recalling: What is Finance?
Finance is the process of transferring fund from surplus economic unit to deficit economic unit.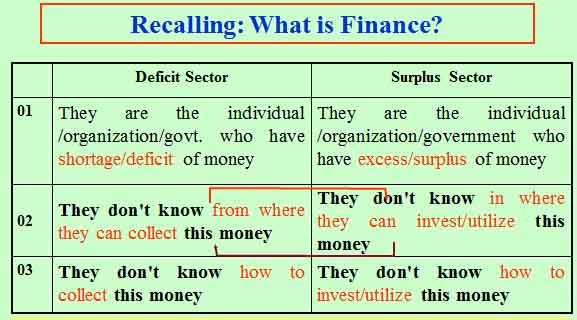 Concept of Corporate Finance
Corporate Finance is the study of a business's money-related decisions, which are essentially all of a business's decisions. Corporate finance applies to all businesses, not just corporations.

Corporate finance is the area of finance dealing with the sources of funding and the capital structure of corporations and the actions that managers take to increase the value of the firm to the shareholders, as well as the tools and analysis used to allocate financial resources.
The primary goal of corporate finance is to figure out how to maximize a company's value by making good decisions about investment, financing, and dividends.

In other words, how should businesses allocate scarce resources to minimize expenses and maximize revenues?

How should companies acquire these resources – through stock or bonds, owner capital or bank loans?

Finally, what should a company do with its profits? How much should it reinvest into the company, and how much should it pay out to the business's owners?
What is Corporate Finance?
The function in a company which manages policy and strategy for (and the implementation of) capital structure, budgeting, acquisition and investment, financial modeling and planning, funding, dividends and taxation is called Corporate Finance.

Corporate Finance is a specific area of finance dealing with the financial decisions corporations make and the tools as well as analyses used to make these decisions.

The discipline as a whole may be divided among long-term and short-term decisions and techniques with the primary goal being the enhancing of corporate value by ensuring that return on capital exceeds cost of capital, without taking excessive financial risks.
The 5 Basic Corporate Finance Functions
Functions of Corporate Finance
Planning and analyzing the financial performance of a business

Raising of Capital or Financing: raising capital to support company operations and investments

Budgeting of Capital: selecting those projects based on risk and expected return that are the best use of a company's resources

Corporate Governance: developing a company governance structure to encourage ethical behavior and actions that serve the best interests of its stockholders

Financial Management: management of company cash flow and balancing the ratio of debt and equity financing to maximize company value

Risk Management: management of risk exposure to maintain optimum risk-return trade-off that maximizes shareholder value

Payout Decision
All the above functions are interrelated and interdependent. For example, in order to materialize a project a company needs to raise capital. So, budgeting of capital and financing are interdependent.
Corporate Governance
Corporate governance is the system by which corporations are directed and controlled.

Corporate governance is the set of process, customs, policies, laws, and institutions affecting the way a corporation (or company) is directed, administered or controlled.

Corporate Governance is a relationship among stakeholders that is used to determine and control the strategic direction and performance of organizations
Why is Corporate Governance Important?
1. Good corporate governance supports effective decision making
2. relationships among the many stakeholders involved
3. the goals for which the corporation is governed.
4. corporate governance is to ensure the accountability
5. to reduce or eliminate the principal-agent problem.
6. economic efficiency
7. strong emphasis shareholders' welfare.
The Corporate Governance Function
• Hires and promotes qualified, honest people, and structures employees' financial incentives to motivate them to maximize firm value
• In practice the incentives of stockholders, managers, and other stakeholders often conflict.
Corporate Social Responsibility (CSR)
Corporate social responsibility (CSR, also called corporate conscience, corporate citizenship, social performance, or sustainable responsible business) is a form of Corporate self-regulation integrated into a business model. CSR policy functions as a built-in, self-regulating mechanism whereby business monitors and ensures its active compliance with the spirit of the law, ethical standards, and international norms.
Zulfiqar Hasan, (PhD (Fellow), working as an Associate Professor, Department of Business Administration, Bangladesh Islami University, Dhaka. He has done his MBA from London School of Commerce (LSC), London, UK under Charles Sturt University (CSU). He has also been the Coordinator of MBA program, Northern University Bangladesh.
---